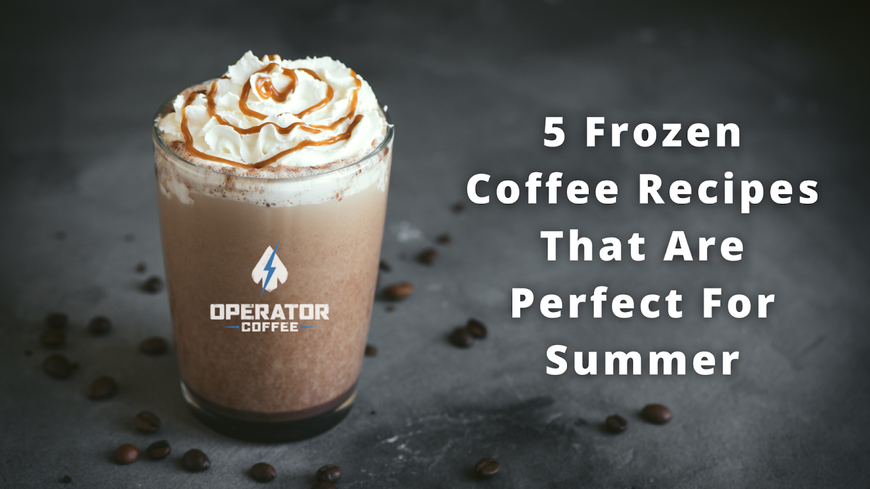 The warmer the weather gets, the less and less you may opt for hot coffee. Don't worry, we have compiled a list of delicious frozen coffee recipes below that will keep you cool and caffeinated all summer long. 

1. S'mores Frozen Coffee
Ingredients:
1 cup of 2 In 2 Out brewed coffee (cooled down)
1/4 cup half and half (sub with milk or cream)
1 tbsp + 1 tsp sugar
1 tbsp chocolate syrup
1 graham cracker crumbled
For Garnish:
Whipped cream 
1 small piece of milk chocolate grated
1 marshmallow
Instructions:
Fill a blender with 1 and 1/2 cups of ice cubes.

Add in coffee, half & half, sugar, chocolate syrup and the crumbled graham cracker.

Blend until a thick milkshake-like consistency.

Pour into a glass or mug.

Pipe on the whipped cream by putting it in a large ziplock bag and cutting off a half inch of the corner. Then pipe it on like an ice cream cone on top of the coffee.

Garnish with the chocolate flakes and some graham cracker crumble sprinkled on top. Then use a lighter to burn the end of a marshmallow and stick that into the whipped cream.
2. Salted Caramel Blended Coffee
Ingredients:
1 cup cold brew Breacher Blend coffee
Coffee ice cubes
1/2 cup International Delight Salted Caramel Mocha Creamer
1/2 cup milk
Caramel sauce garnish
Whipped cream garnish
Sea salt garnish
Instructions:
Pour 1 cup of cold brew coffee or your favorite standard brew into ice cube tray (it takes about 2 cups to fully fill tray). Freeze.

Once coffee ice cubes are frozen, transfer to a blender with 1/2 cup International Delight Salted Caramel Mocha Creamer and 1/2 cup milk and blend on high for 30 seconds or until smooth.

Serve immediately topped with whipped cream, caramel sauce and sea salt sprinkled on top.
3. Frozen Black Forest Mocha Coffee
Ingredients:
1 cup brewed and cooled Para Blend
1/2 cup milk
1/2 cup fresh or frozen cherries halved and pitted
3 Tablespoons chocolate syrup
1 cup ice
Instructions:
Brew your coffee for an 8 ounce portion. Set aside to cool or chill in the refrigerator. If the coffee is still hot, it will melt the ice and lose the frozen effect.

In a blender, combine the coffee, milk, cherries, chocolate, and ice. Blend until the ice is crushed. Taste and add additional ingredients as desired or more ice for a thicker drink.

Pour into a glass garnished with chocolate syrup. Top with whipped cream, chocolate chips, and additional cherries if desired. Serve immediately.
4. Healthy Blended Coffee
Ingredients:
1/3 cup of The Harvest, brewed and chilled
1/4 cup coconut milk
8 coffee ice cubes about 1 oz each
1 scoop collagen
Instructions:
Making Cold Brew Concentrate

Add your cold brew to an ice cube tray and freeze for 4-5 hours. 

Combine coffee ice cubes, milk, cold brew concentrate, and collagen in a blender. Blend on high for 1-2 minutes or until the coffee is creamy and smooth.
5. Boozy Coffee Slushie
Ingredients:
2 cups Trident Roast brewed coffee, cooled
½ cup whole milk 
¼ cup bourbon, optional
⅓ cup sweetened condensed milk
1 teaspoon crushed espresso beans, for serving
Instructions:
Pour coffee and milk into ice cube trays and freeze until solid, 5 hours or overnight.

Combine coffee ice cubes, milk ice cubes, bourbon, if using, and ⅓ cup sweetened condensed milk in a blender (adding more sweetened condensed milk if you prefer a sweeter coffee), and process until smooth. Serve topped with crushed espresso beans.
Now that you have secret recipes for the best frozen drinks, it's time to place an order for the best coffee. At Operator Coffee, we specialize in producing small-batch, gourmet coffee while supporting first responders and veterans on the front line nationwide. To place your order, head over to our ordering page here:
https://operatorcoffee.com/collections