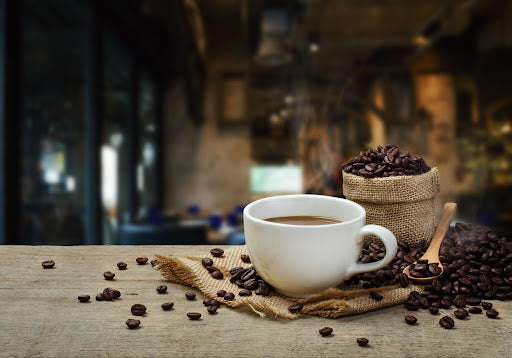 Even dedicated coffee lovers fumble in choosing the right type of coffee sometimes. Considering the many choices available in the market, it is very easy for one to get confused. Looking back at the long history of coffee, we can undoubtedly say that the coffee industry has seen some drastic changes until now.
Today, coffee fans can choose from different coffee flavors: caramel, spicy, fruity, and more. But how do you find the best coffee flavor for you? Read on to learn more. 
The Coffee Taster's Flavor Wheel
The Flavor Wheel is one of the most revolutionary resources the Specialty Coffee Association has contributed to the coffee industry. Ever since they published it in 1995, this flavor wheel has been the industry's standard. It has become the most helpful tool for professional coffee tasters to identify the natural flavors in coffee. However, it isn't exclusively for them—with a bit of effort, anyone can master the art of understanding the flavor wheel.
Examine The Chart
This tool is the product of years of research, industry knowledge, and design. Hence, it's vital to take a moment to examine the chart thoroughly. You may not be familiar with some of the terms in the chart. Flavor comprises both aroma and taste. As you observe the chart, you'll see that some parts of the chart relate to the aroma, a few relate to taste, and most elements are a mixture of both.     
Begin From The Center And Work Outward
The taster starts from the middle and works outwards while using the flavor wheel. The farther it moves from the center, the more specific it gets. A person finds the coffee they tasted to be fruity or nutty. But by moving outwards from the centre of the flavor wheel, one can identify what sort of nutty flavor it was–whether it tasted like almond, cashew, or of hazelnut. The taster can stop at any level they wish to. With experience, you can get more specific about how the coffee tastes.
Though the coffee taster's flavor wheel is a great idea, one person's perception of bitter chocolaty or buttery may not be the same as another's. The flavor wheel was developed based on references compiled to form World Coffee Research Sensory Lexicon. A taster can define the attributes represented in the wheel using this, even if they have not been trained in its methodology.
The process of choosing coffee based on flavor notes may seem complex at first. But the flavor wheel is an excellent tool for anyone who wishes to find the best coffee for their taste.
If you are looking for amazing coffee made from high-quality beans, then check out our options at Operator Coffee.  Visit our website to learn more.