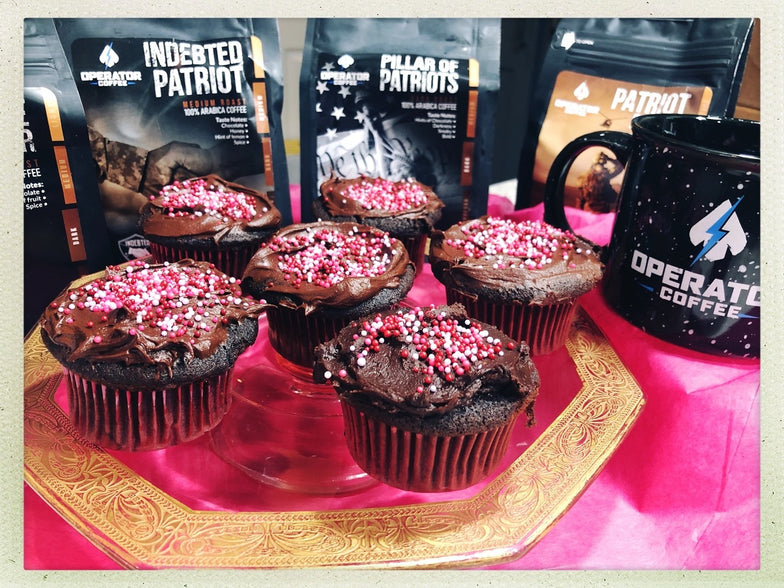 Operator Coffee Chocolate Cupcakes
Blog post by @lady_linecook, Emily S., of thewoma.org
Just in time for Valentine's Day!  Here's my recipe for decadent chocolate cake.  I've replaced the water with Operator Coffee to give the cake a more luscious and full-bodied taste.  This recipe makes 2 each 9-inch cakes or 24 cupcakes.  Enjoy!
1/2 teaspoon baking soda

3/4 teaspoon salt

3/4 cup (64 g) Dutch-process or natural cocoa

1 3/4 cups (354g) granulated sugar

8 tablespoons (113g) unsalted butter, at room temperature

1/3 cup (64g) vegetable oil

2 teaspoons Vanilla extract  

1 cup (227g) milk

1/2 cup (113g) Operator Coffee, room temperature

4 large eggs
Instructions
Preheat the oven to 350°F. Lightly grease and flour your choice of pans: one 9″ x 13″ pan, two 9″ round pans, three 8″ round pans, or two 12 piece cupcake pans.

Sift together the flour, baking powder, baking soda, salt, cocoa, and sugar into a large mixing bowl.

Add the butter and mix at low speed for 1 minute. With the mixer running, add the oil and continue mixing until the mixture looks sandy, about 30 seconds more.

In a large measuring cup, combine the vanilla with the milk and coffee, and add all at once to the dry ingredients. Mix for 1 minute at low speed, stop and scrape the sides and bottom of the bowl, then mix for 30 seconds more. 

Add the eggs one at a time, beating well at medium-high speed between additions.

Scrape the sides and bottom of the mixing bowl and mix for 30 seconds more. The batter will be thin and silky.

Transfer the batter to the prepared pan(s) of your choice. Smooth out the tops of the layers with an offset spatula.

Bake for 34 minutes for a 9″ x 13″ pan, 28 to 30 minutes for 9″ layers, 24 to 26 minutes for 8″ layers, and 20 to 22 minutes for cupcakes.

The cake is done when the top springs back when very lightly touched in the center, and the edges just begin to pull away from the edge of the pan. A cake tester inserted in the center will come out clean.
*Remove the cake from the oven and let cool completely in the pan(s) on a rack before turning out of the pans to frost.