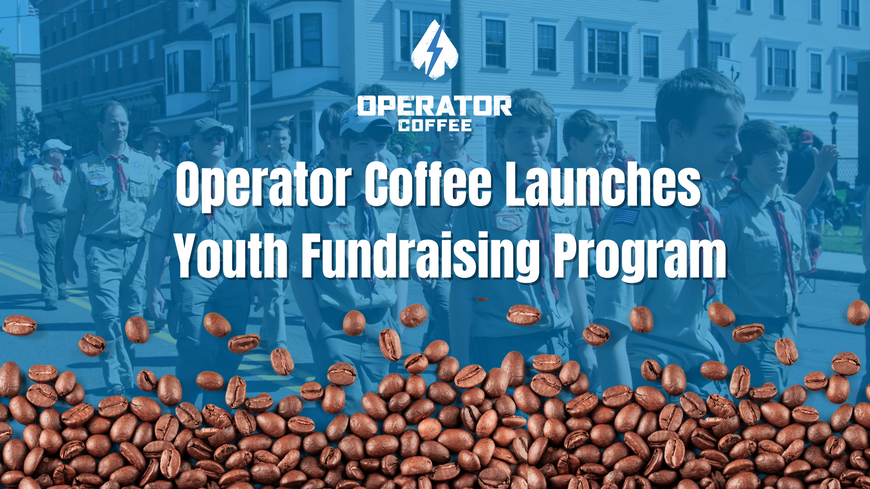 Operator Coffee is excited to announce their new Youth Fundraising program which will allow young students and athletes to financially support their team while offering gourmet, small-batch coffee to their family, friends and neighbors. An Operator Coffee fundraiser is a unique fundraising idea that offers high-quality products, great pricing, and a product lineup that your supporters will be eager to buy.
For every bag sold, Operator Coffee donates a portion of the sales towards raising funds for youth programs across the country. This is a great opportunity for teams to fund their programs while also providing a product that nearly everyone loves.
Coffee is an essential part of life for many Americans, making it the perfect product to offer as a fundraising option. Since the COVID-19 pandemic, more coffee drinkers are making their morning cup at home than ever before. Below are some statistics on coffee consumption that may surprise you. 
The average American drinks 3.1 cups of coffee per day.

While the average US office employee drinks 4 cups a day.

Over 50% of Americans over 18 years of age drink coffee every day.

There are over 150 million daily coffee drinkers.

7 in 10 Americans drink coffee every week.

62% drink coffee every day.
Source – https://www.ncausa.org/Newsroom/NCA-releases-Atlas-of-American-Coffee
Operator Coffee encourages young athletes, trapshooting clubs, Boy and Girl Scouts clubs, Church Youth Groups, FFA groups, Civil Air Patrol, JROTC and ROTC, and any other youth program you can think of to take advantage of this unique fundraising opportunity.  Those interested in participating in Operator Coffee's new Youth Fundraising Program can email directly to info@operatorcoffee.com. 
Operator Coffee is a Veteran owned, small-batch premium roast-to-order brand, dedicated to those who serve the United States both home and overseas. In the military world, the term "operator" is synonymous with elite warfighters.  Operator Coffee believes in elite Americans driving a brand message that considers those who get up every day and grind it out for themselves, their families, their country to be operators as well.  Through this focus, OC believes an awesome cup of coffee shared between friends, even two who may disagree on some points, can find common ground in their love of this great nation.  Operator Coffee is committed to bringing awareness to the needs of our veterans by building strong relationships with reputable charities across the nation. Our non-profit partners are committed to helping both military veterans and the first responder community.
OC is also part of a great network of partner companies, the Anteris Alliance – www.anterisalliance.com.  This is a group of over 60, Patriot-owned, manufacturers, service providers, and nonprofit partners who are working in the community to support each other and do more to support our Vets and First Responders together than we could do alone.  Become a member of this great network today and you will receive invites to special events, an awesome member pack, and great discounts on Alliance company products, including Operator Coffee!   
Info on becoming a new Operator Coffee dealer, PR, and/or media questions can be directed to info@operatorcoffee.com.