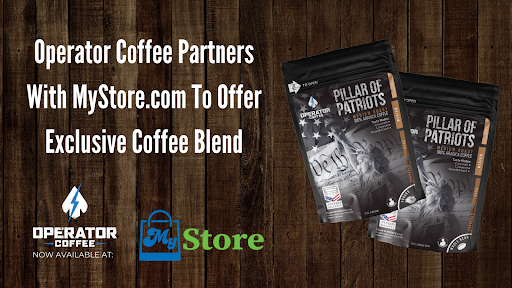 Operator Coffee is thrilled to announce their new partnership with MyStore.com, or as you may know them by their flagship product, MyPillow. This partnership will allow Operator Coffee, a veteran-owned coffee brand, to expand its reach to patriots all over the country. MyPillow is one of the most recognizable brands in the market. As seen on TV, their memory pillows have become the most popular pillows available.
After witnessing the success of his brand, and having numerous people approach him with their great products, MyPillow founder Mike Lindell created a revolutionary online marketplace for patriot-owned brands. With this partnership, the trusted team of MyStore.com professionals will showcase Operator Coffee in a global marketplace, which in return will result in increased brand awareness and greater exposure for the brand.
There are several key features of the MyStore.com platform that drew Operator Coffee to the decision to partner with the brand. First of all, their platform is trusted by thousands of users, and with a successful CEO who is followed by millions, Operator Coffee will be able to increase their exposure greatly.
On the website, we will be offering an exclusive blend, Pillar of Patriots. This small-batch medium roast blend with a very smooth finish utilizes hints of chocolate and cinnamon that you will fall in love with. These 12-ounce bags are offered in either whole bean or ground and provide the perfect wake-up to both your nostrils and your soul! By offering this roast on the MyStore.com website, Operator Coffee will be able to introduce its brand to a large audience and increase its volume of coffee sold with distribution and fulfillment handled directly by MyStore.
Operator Coffee is a Veteran owned, small-batch premium roast-to-order brand, dedicated to those who serve the United States both home and overseas. In the military world, the term "operator" is synonymous with elite warfighters.  Operator Coffee believes in elite Americans driving a brand message that considers those who get up every day and grind it out for themselves, their families, their country to be operators as well.  Through this focus, OC believes an awesome cup of coffee shared between friends, even two who may disagree on some points, can find common ground in their love of this great nation.  Operator Coffee is committed to bringing awareness to the needs of our veterans by building strong relationships with reputable charities across the nation. Our non-profit partners are committed to helping both military veterans and the first responder community.
OC is also part of a great network of partner companies, the Anteris Alliance – www.anterisalliance.com.  This is a group of over 60, Patriot-owned, manufacturers, service providers, and nonprofit partners who are working in the community to support each other and do more to support our Vets and First Responders together than we could do alone.  Become a member of this great network today and you will receive invites to special events, an awesome member pack, and great discounts on Alliance company products, including Operator Coffee!   
Info on becoming a new Operator Coffee dealer, PR, and/or media questions can be directed to info@operatorcoffee.com.