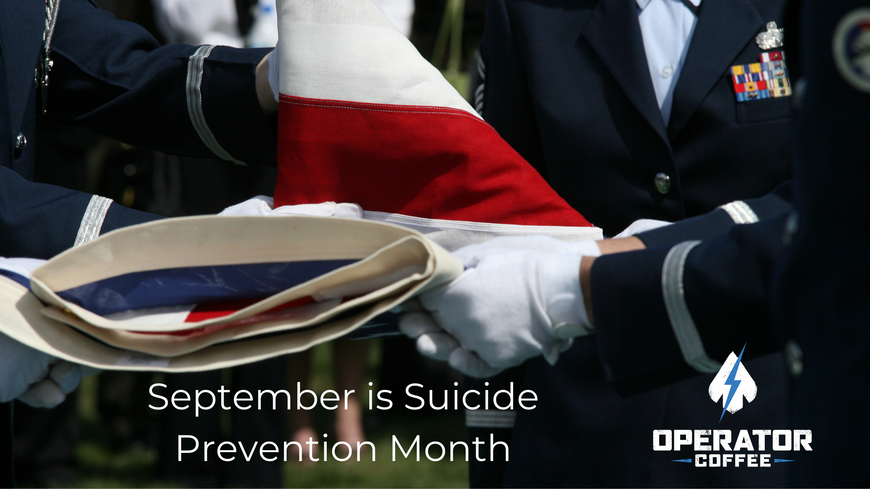 September is National Suicide Prevention Month. Each September, mental health advocates, prevention organizations, survivors, allies, and community members unite to promote suicide prevention awareness. 
Since our founding, we have always remained committed to preventing veteran suicide as our founder has lost several friends to suicide. When you purchase Operator Coffee, a portion of the sales go directly to our non-profit partners who are committed to preventing veteran suicide. Our fan-favorite blend, Roast 22, has a story behind it that ties back to our roots of being a veteran-owned business. Roast 22 was created with the mission of bringing more awareness to the issue of veteran suicide and heal those dealing with PTSD.
There are several ways that you can personally help someone who is dealing with suicidal thoughts. The best thing to do if you notice someone is dealing with these thoughts is to connect them to a professional as soon as possible. There are many mental health services available at the VA that do not require enrollment in VA health care. If the person feels more comfortable speaking over the phone, they can call the VA Veteran's Crisis Line at 800-273-8255, then select 1. #BeThe1To is the National Suicide Prevention Lifeline's message to help spread the word about actions we can all take to prevent suicide. #BeThe1To outlines four different steps that you can take in which we've included below. 
Ask


Research shows people who are having thoughts of suicide feel relief when someone asks after them in a caring way. Although it may sound counterintuitive, findings suggest that acknowledging and talking about suicide may reduce rather than increase suicidal ideation.

Be There


Individuals are more likely to feel less depressed, less suicidal, less overwhelmed, and more hopeful after speaking to someone who listens without judgment.

Keep Them Safe


A number of studies have indicated that when lethal means are made less available or less deadly, suicide rates by that method decline, and frequently suicide rates overall decline.

Help Them Stay Connected


Studies indicate that helping someone at risk create a network of resources and individuals for support and safety can help them take positive action and reduce feelings of hopelessness. 

Follow Up


Studies have also shown that brief, low cost intervention and supportive, ongoing contact may be an important part of suicide prevention, especially for individuals after they have been discharged from hospitals or care services.
Like Operator Coffee, there are many other organizations that are committed to prevent veteran suicide. For example, The Outdoor Association for True Heroes (OATH), is an organization that we partner with that provides outdoor experiences to veterans to help them heal.  Immediately upon their return, our nation's Combat Veterans are changed people. In one way or another, they are not the same person they once were when they left the shores of this great nation in her defense.  Some return to us missing limbs and visible scars. Others return to us with invisible scars that, much like their physical scars, will never fully heal.  We as a society might not fully comprehend what these heroes, both male and female, have survived.  One can never adequately explain what their eyes have seen and what their bodies have endured. For them, there is a place at OATH in which they can relate to many other service members and participate in various outdoors activities centered around faith, family, and community to improve the quality of life of our eligible veterans.
OC is also part of a great network of partner companies, the Anteris Alliance – www.anterisalliance.com.  This is a group of over 60, Patriot owned, manufacturers, service providers, and nonprofit partners who are working in community to support each other, and do more to support our Vets and First Responders together than we could ever possibly do alone.
For more information about Operator Coffee, our mission, and our gourmet coffee blends, browse our website at www.operatorcoffee.com. Also, don't forget to keep up with us on  Facebook & Instagram.