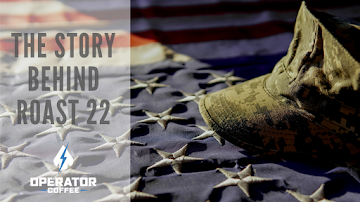 Our fan-favorite blend, Roast 22, has a story behind it that ties back to our roots of being a veteran-owned business. Roast 22 was created with the mission of bringing more awareness to the issue of veteran suicide and heal those dealing with PTSD. Unfortunately, the owner of Operator Coffee has personally lost several friends to veteran suicide so this is an issue that really strikes home for our company. 
We lose thousands of our American heroes to this preventable mental health problem every year. According to the Department of Veteran's Affairs, the suicide rate for veterans is over 1.5 times higher than that of the general population. The horrifying reality is that we lose 22 veterans on average to suicide every single day. This is due to a variety of factors, such as untreated mental illness such as PTSD, substance abuse, traumatic brain injuries, and more.
Many veterans do not show any signs that they are battling with suicidal thoughts. This makes it extremely difficult for family members to recognize that their loved one needs help. Some signs that someone may be considering suicide is if they pull away from friends and family, express feelings of shame and guilt, or lose interest in hobbies, work, or other things they used to care about. They may give away special personal items, make a will, or begin acting reckless. 
There are some people that believe that once someone has made the decision to take their own life, there is nothing you can do to prevent it. In reality, most suicidal thoughts are tied to treatable disorders and the intent to die can overpower rational thinking. The best thing to do if you notice someone is dealing with these thoughts is to connect them to a professional as soon as possible. There are many mental health services available at the VA that do not require enrollment in VA health care. If the person feels more comfortable speaking over the phone, they can call the VA Veteran's Crisis Line at 800-273-8255, then select 1.
When you support Operator Coffee, you are directly supporting our non-profit partners with a percentage of sales going to organizations such as OATH, a nonprofit dedicated to healing America's veterans and preventing veteran suicide. In fact, a percentage of proceeds made from Roast 22 sales are dedicated to funding OATH and their mission. 
Roast 22 is not only a favorite because of the story behind it, it is also one of the most deliciously unique coffee blends you will ever try. It features hints of chocolate and cinnamon that will make your house smell amazing when you brew a pot. Dedicated coffee drinkers will find this roast to be their new go-to for their morning cup. 
We even designed a shirt as a tribute to our flagship roast for the real Roast 22 fans. Made out of a lightweight, soft-spun cotton and polyester blend, this shirt is guaranteed to keep you comfortable with less wrinkling and shrinkage. Our Roast 22 shirt is available in both women's fit and men's fit. 
In the military world, the term "operator" is synonymous to elite warfighters.  Operator Coffee believes in elite Americans, driving a brand message that considers those who get up every day and grind it out for themselves, their families, their country to be operators as well. Through this focus, OC believes an awesome cup of coffee shared between friends, even two who may disagree on some points, can find common ground in their love of this great nation.  
OC is also part of a great network of partner companies, the Anteris Alliance – www.anterisalliance.com.  This is a group of over 60, Patriot-owned, manufacturers, service providers, and nonprofit partners who are working in the community to support each other, and do more to support our Vets and First Responders together than we could do alone.  Become a member of this great network today and you will receive invites to special events, an awesome member pack, and great discounts on Alliance company products, including Operator Coffee!   
Info on becoming a new Operator Coffee dealer, PR, and/or media questions can be directed to info@operatorcoffee.com.