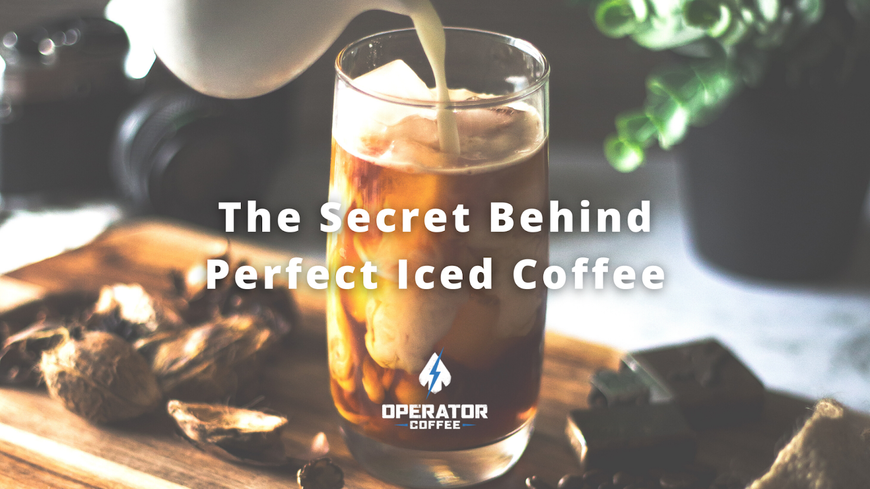 Summer is almost here! With warmer weather on its way, you may be swapping your hot cup of joe with an iced coffee. However, there is truly nothing worse than a watered down cup of coffee. When this happens, you may think that the only way to enjoy perfect iced coffee is from your nearest coffee shop. The good news is, there are a few things you can do to perfect your iced coffee in the comfort of your own home while saving money at the same time. Below, we are going to spill the secret behind the perfect glass of iced coffee. 
The easiest thing to do to make the perfect iced coffee is to make it the night before, either via cold brew or via any hot brew method. Taking this proactive approach will ensure that your coffee has time to brew and/or cool down before making your iced coffee. In the morning, simply pour your coffee over a glass 2/3rds full of ice and add milk, creamer, and sugar to your preference.
If you're in a pinch, there is something you can do to upgrade your iced coffee with just a little preparation ahead of time for these rushed moments. All you have to do is fill your ice cube tray full of coffee and let it freeze. Now you have an easy way to cool down your hot coffee without compromising the taste or strength of the brew. 
Another popular way to make iced coffee is with espresso. Since this type of coffee is much more caffeinated and bold tasting, diluting it with a bit of ice will just make it taste more so like regular coffee. We highly recommend trying our 1 Minute Out Espresso for this method as it features a bold and rich flavor that is the perfect addition to your iced coffee. 
With these tips, you'll never have to overpay for a cup of coffee again. If you haven't already, read our blog on
how to make perfect cold brew coffee
. At Operator Coffee, we produce small batch gourmet coffee in a variety of roast levels and flavors that you're sure to love. Browse our selection of coffee here:
https://operatorcoffee.com/collections